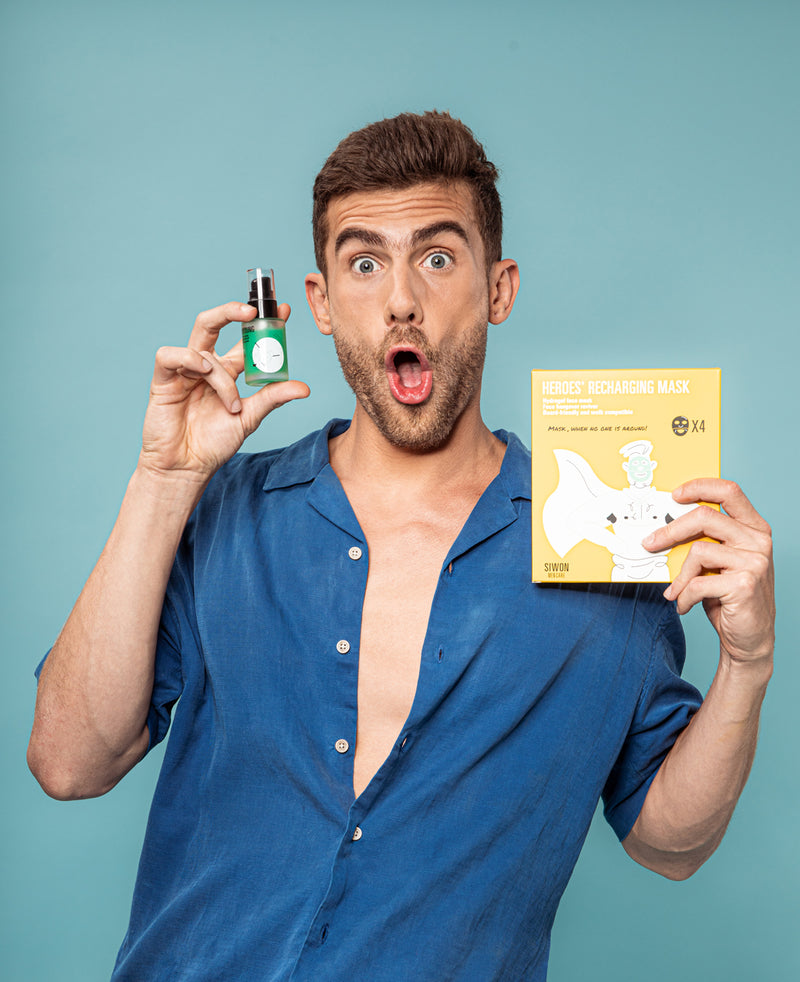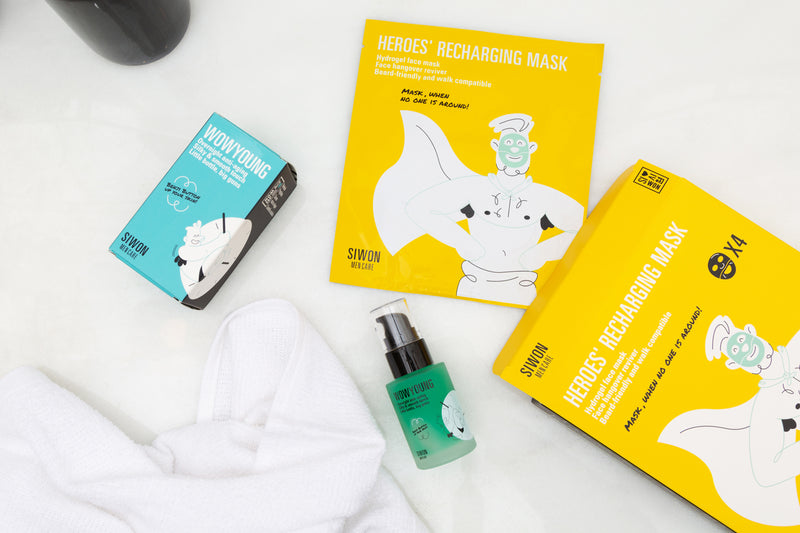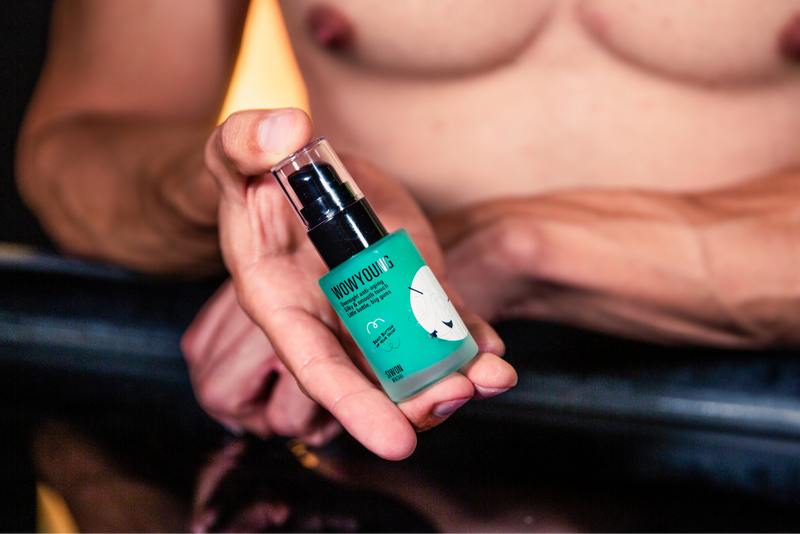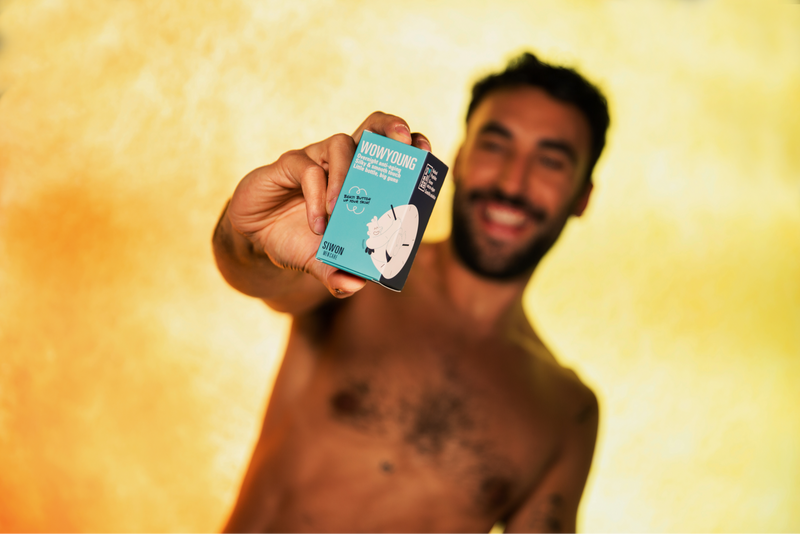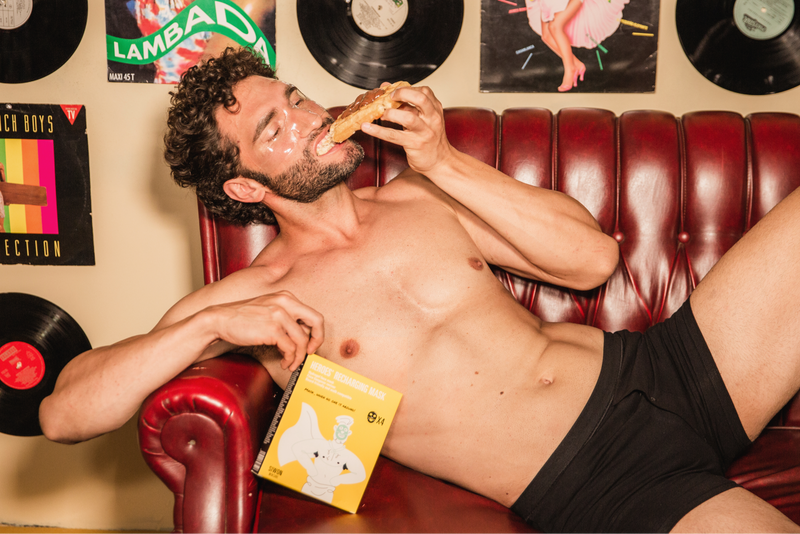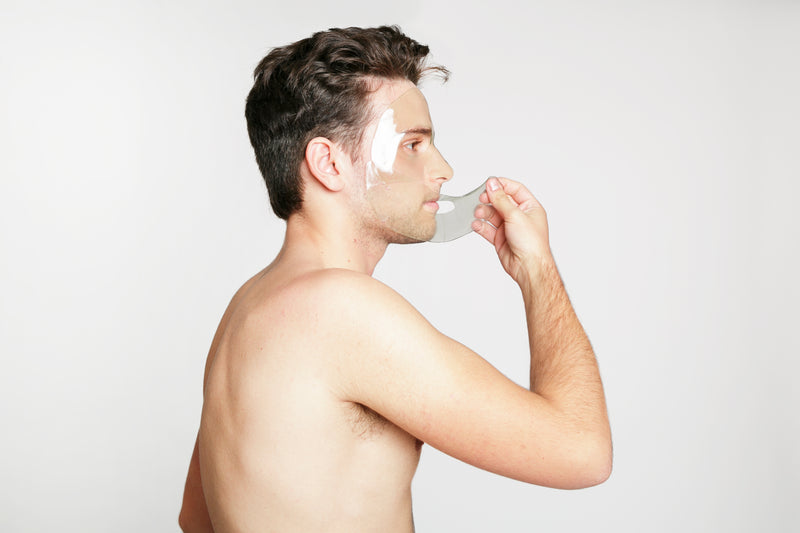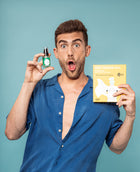 Mirror mirror, who is the one from the school gang that looks half its years? The one who laughs without crow's feet ... laughs younger.
What will you feel
The anti-age is a blue gel-texture-like cream with a super fresh texture and instant absortion.
The hydrogel masks feels like a freshness kick all over the face. After remoal, your face will be illuminated with an after-f*ck glow.
After 8-10 weeks of treatment, you will see how your wrinkles become finer and the expression lines on your face and eyes will disappear.
How to use
Daily, before going to sleep and with your face washed and dry; apply 2-3 pumps of the cream and spread around your face.
To level-up combine, once a week, with a mask to soothe, refresh and restore your skin.
Retinol 0.3%
Anti-aging superstar
Peptides
Antioxidants and collagen production
Green Alga
Antioxidant and anti-inflammatory
Hyaluronic acid
Hydration cubed
Centella Asiática
Soothing, regenerating, hydrating, anti-inflammatory
Niacinamide 5%
Anti-aging, anti-wrinkle, stain remover, hydration, helps against pimples, rosacea and dermatitis
Collagen
Hydration
Green tea
Antioxidant, antimicrobial, anti-inflammatory
Red algae
Moisturizer, protective barrier, hydration
Ginseng
Nutrition, improves circulation, antioxidant
Frequently asked questions
I have sensitive skin, can I use the retinol cream?+-
- It is designed for guys starting with retinol anti-aging products and has an A+ in all sensitivity tests.
- Having said that, since every skin is different, to prevent any reaction, start using it every other day until the skin gets used to it.
How natural is it?+-
- They do not contain parabens, sulfates or silicones.
- They are both cruelty free.
- Dermatologically tested on all skin types.
How long does it last?+-
- Applying it every night the cream should last between 2 and 3 months and the masks a month.
Why can I only apply the cream at night?+-
- Retinol is an ingredient that does not get along with the sun. If you decide to apply it for the day, better accompany it with sun protection.
Do masks work if you have a beard?+-
- Yes because it comes in two halves.
- If you have a beard, put the top on your face and the bottom on your neck to take advantage of it.
How many masks does each box bring?+-
- Each box contains 4 masks packed in an individual envelope.
What is this hype about hydrogel?+-
- It is a material that is used in tissue engineering due to its biocompatibility, that is, it has a composition similar to our skin.
Free shipping is available if a minimum amount is spent.
Free shipping for all orders:
Spain (peninsula and Balearic Islands), Portugal (continental) with standard shipping service.
Free shipping for orders over €50:
Germany, Belgium, Slovakia, Slovenia, Spain (Canary Islands), France (mainland), Netherlands, Hungary, Lithuania, Luxembourg, Poland, Czech Republic, Austria, Denmark, Ireland, Italy (mainland) and Latvia.
Free shipping for orders over €100:
Estonia, Sweden, Croatia, Finland, Bulgaria, Italy (Sicily), Romania, Greece, France (Corsica) and Portugal (Azores and Madeira).

Deliveries in 2/3 working days:
Spain (peninsula and Balearic Islands), Portugal (continental) with express delivery service.
Deliveries in 3/5 business days:
Germany, Belgium, Slovakia, Slovenia, France, Holland, Luxembourg, Czech Republic, Austria, Denmark, Ireland, Italy, Finland, Romania.
Deliveries in 7/10 working days:
Bulgaria, Croatia, Estonia, Spain (Canary Islands), Greece, Hungary, Latvia, Lithuania, Poland, Portugal (archipelagos), Sweden.
Our couriers are DHL, UPS, CorreosExpress or Correos (depending on whether you choose standard or express shipping). Delivery times count from the moment your order leaves our warehouse. The order processing time is 24/48 working hours. Deadlines may change due to bank holidays or due to causes beyond Siwon's control. Under no circumstances do the indicated deadlines constitute a guarantee of delivery. Orders with free delivery to Spain and Portugal have a delivery period of 3 to 5 working days.
Spread the love
Cremas con encanto
Aquí un anticremas que ha caído a los encantos de Siwon. Jamás había gastado un bote de crema, me los compraba y a los dos días los dejaba, pringaban mucho y tenían cero efectos. Con las cremitas de Siwon es todo lo contrario, ligeritas, suaves, sensación de frescor y efectos inmediatos, así da gusto! Llevo meses usándolas y no me cabe duda de que seguiré haciéndolo, por su calidad y como no, por sus precios y descuentos. Todo suma! Siwon es a nuestras caritas lo que el KH7 a las cocinas! Un fuerte abrazo para todos, Feliz Navidad y Feliz año nuevo siwoneros!! Nono.
Cosmética sencilla
Productos fáciles de usar sin complicaciones y efectivos en un par de pasos listo ya q no tenemos tiempo hoy día .