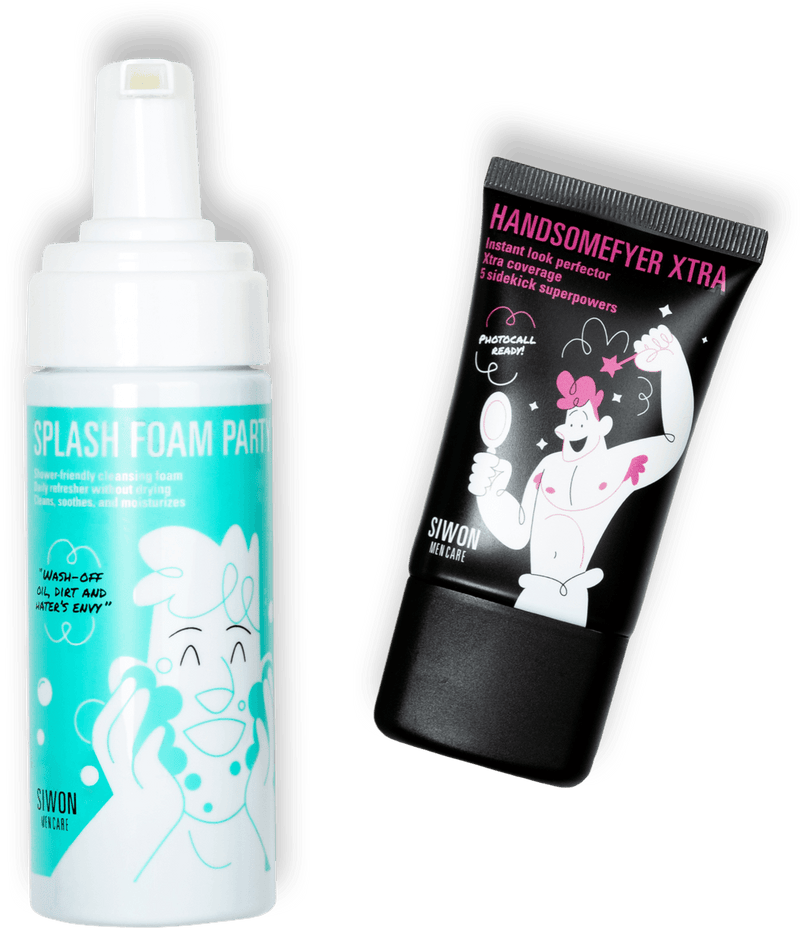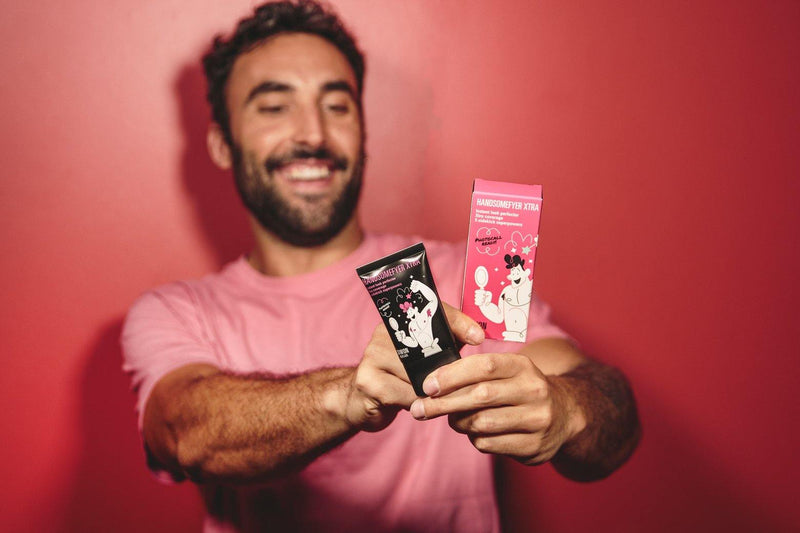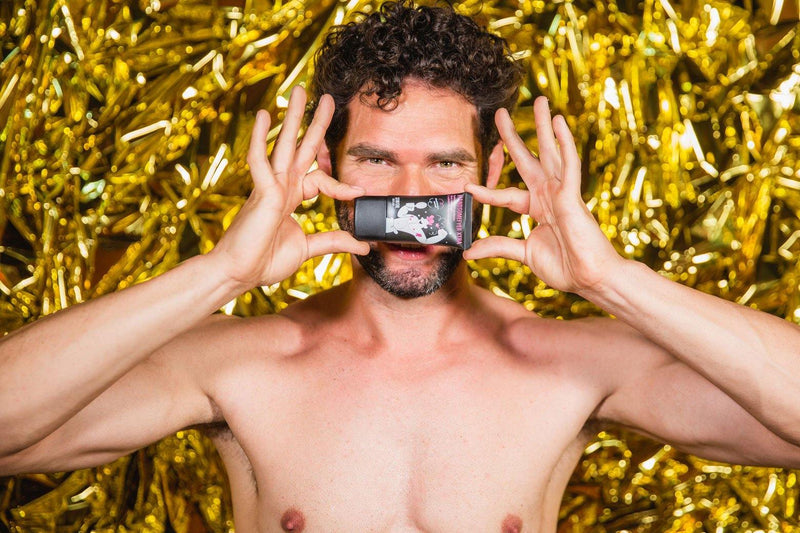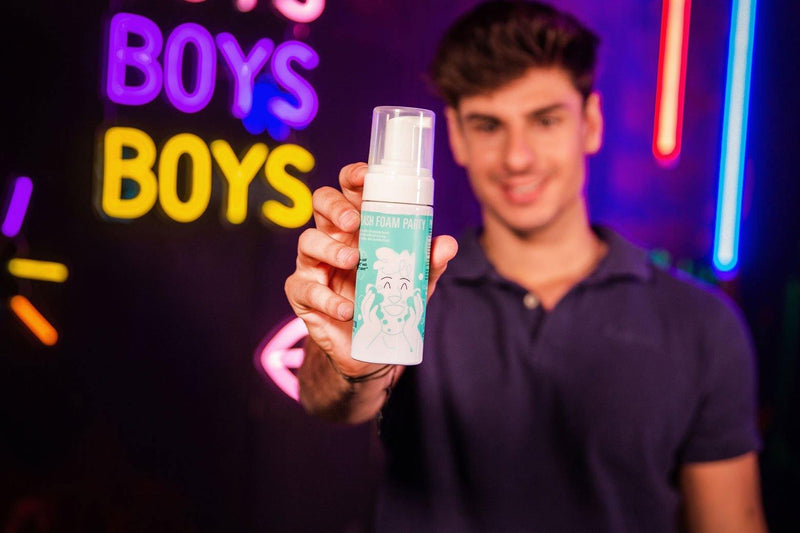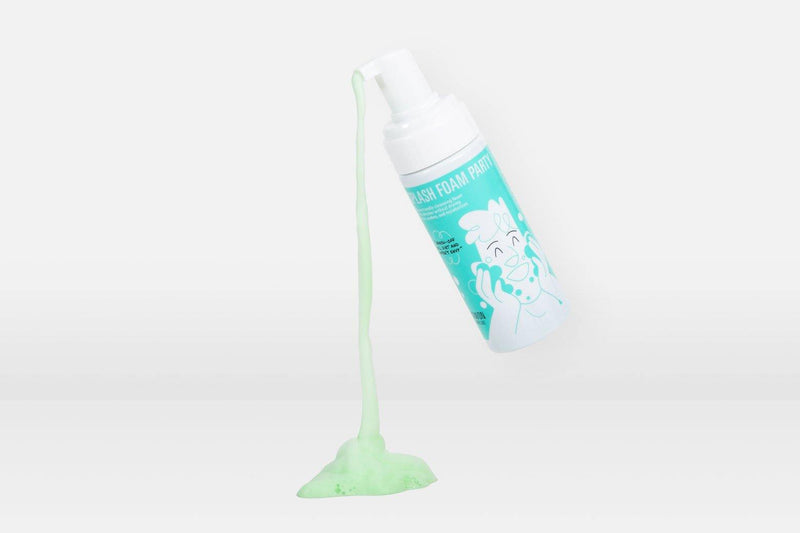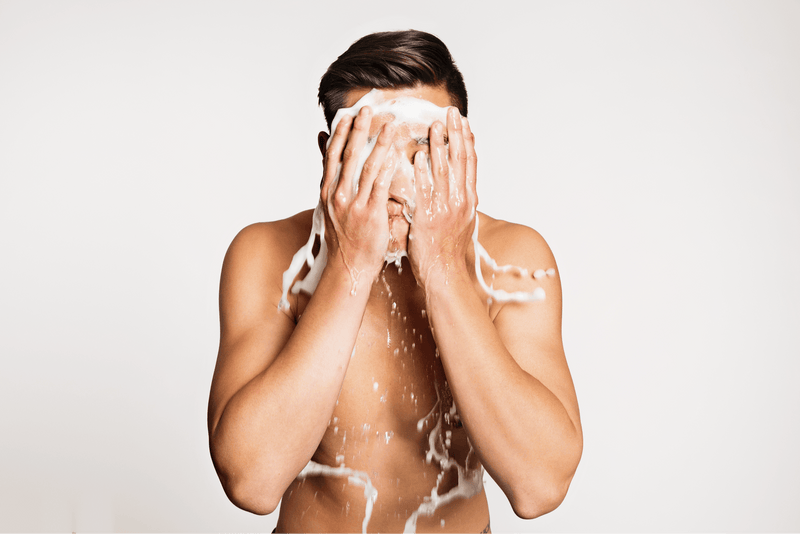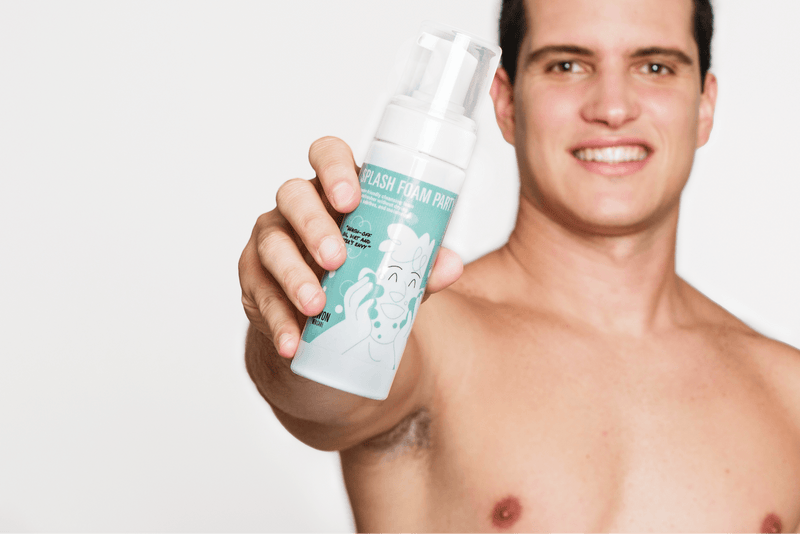 Your tuning-up ritual at home before going out to hit the streets, club or fashion photocall:
First, the face cleanser to start with a 'blank sheet' without impurities.
Then, the cream that will break your necks along your passing.
Our users recommend adding to the combo: your music list of guilty pleasures, a dance showoff in front of the mirror and a minimum of 3 look changes to blow it up galactic.
What will you feel
The cleanser is a very light green foam. It has an instant fresh feel and a fruity-apple smell.
It leaves your skin soft, without drying and with its continued use, it unclogs your pores, keeping pimples and blackheads at bay.
The cream is beige and, as you spread it, you will see that it completely covers your pores and blurs wrinkles, spots and dark circles, with an even tone.
In addition to the hydration kick, it will raise your skin tone with a 'summer tan' glow.
How to use
The Splash Foam Party
- With your face wet, apply 2 or 3 foam pumps on your hands, massage your face, leave it on for 10-20 seconds and rinse with plenty of water.
The Handsomefyer XTRA
- With the face already dry, apply a 'pea'-size amount of product and spread thoroughly with your fingers in circular movements over the face until it is uniform. Make sure to cover all areas such as the hairline and beard, the folds of the nose ... Add more if you are looking for a mouth-watering finish.
Bamboo
Elasticity, firmness, hydration and antioxidant
Aloe vera
Regeneration, hydration, anti-inflammatory, antibacterial
Centella Asiatica
Antibacterial, anti-inflammatory, moisturizing, regenerative
Ginseng
Nutrition, improves circulation, antioxidant
Mediterranean fruit extracts
Hydration, softness, luminosity
Niacinamide 5%
Anti-aging, anti-wrinkle, stain remover, hydration, helps against pimples, rosacea and dermatitis
Vitamins C & E
Antioxidants and photo protection
Hyaluronic acid
Hydration cubed
White Agaric Mushroom Extract
Protection, minimizes appearance of pores
Frequently asked questions
How long does the pack last?+-
- Using it every day in the morning and at night, it lasts between a month and a half and 2 months.
Are the ingredients natural?+-
- The Splash Foam Party and the Handsomefyer Xtra do not contain parabens, sulfates or silicones. They are cruelty free and vegan.
- Both have been dermatologically tested on all skin types.
What is the difference between the Handsomefyer and the Handsomefyer Xtra?+-
- The difference lines in the coverage.
- Handsomefyer refines in a subtle way.
- Handsomefyer Xtra has a more intense finish, camouflaging dark circles, pimples, etc.
- When in doubt, our advice is to start with Handsomefyer and then upgrade to the Xtra if you want more intensity.
- In terms of vitamins and active ingredients, both are the best!.
Is Handsomefyer makeup?+-
- No. It's an all-in-one: moisturizer, anti-wrinkle and spot treatment, sunscreen and perfector.
- It does have color.
- If you've ever used makeup, the finish looks like a light foundation; don't expect your 'typical' full coverage of a regular makeup.

Free shipping is available if a minimum amount is spent.
Free shipping for all orders:
Spain (peninsula and Balearic Islands), Portugal (continental) with standard shipping service.
Free shipping for orders over €50:
Germany, Belgium, Slovakia, Slovenia, Spain (Canary Islands), France (mainland), Netherlands, Hungary, Lithuania, Luxembourg, Poland, Czech Republic, Austria, Denmark, Ireland, Italy (mainland) and Latvia.
Free shipping for orders over €100:
Estonia, Sweden, Croatia, Finland, Bulgaria, Italy (Sicily), Romania, Greece, France (Corsica) and Portugal (Azores and Madeira).

Deliveries in 2/3 working days:
Spain (peninsula and Balearic Islands), Portugal (continental) with express delivery service.
Deliveries in 3/5 business days:
Germany, Belgium, Slovakia, Slovenia, France, Holland, Luxembourg, Czech Republic, Austria, Denmark, Ireland, Italy, Finland, Romania.
Deliveries in 7/10 working days:
Bulgaria, Croatia, Estonia, Spain (Canary Islands), Greece, Hungary, Latvia, Lithuania, Poland, Portugal (archipelagos), Sweden.
Our couriers are DHL, UPS, CorreosExpress or Correos (depending on whether you choose standard or express shipping). Delivery times count from the moment your order leaves our warehouse. The order processing time is 24/48 working hours. Deadlines may change due to bank holidays or due to causes beyond Siwon's control. Under no circumstances do the indicated deadlines constitute a guarantee of delivery. Orders with free delivery to Spain and Portugal have a delivery period of 3 to 5 working days.
Spread the love
Cumplen lo que prometen
Las cremas cumplen lo que prometen. Tienen una textura muy ligera que no deja sensación grasa, sin rastro de "pringue" tras aplicarlas. El envío es muy rápido y además cuentas con ofertas de vez en cuando y siempre hay algún que otro regalito. para mí que soy muy pálido de cara y piel muy blanca, el Handsomefyer Xtra es ideal.
Muy bueno, de cinco estrellas
Una pasada de cremas que te dejan como nuevo
Cremitas top
Soy anticremas por naturaleza porque para mi todas pringan y me llevo sudandolas hasta el da siguiente y Siwon es todo lo contrario, da igual la que uses, parece que no llevas nada puesto con un resultado perfecto! Definitivamente me han enganchado!
Relación calidad-precio
Buena calidad. Buenos resultados. No son productos baratos pero tienen una buena relación calidad-precio.