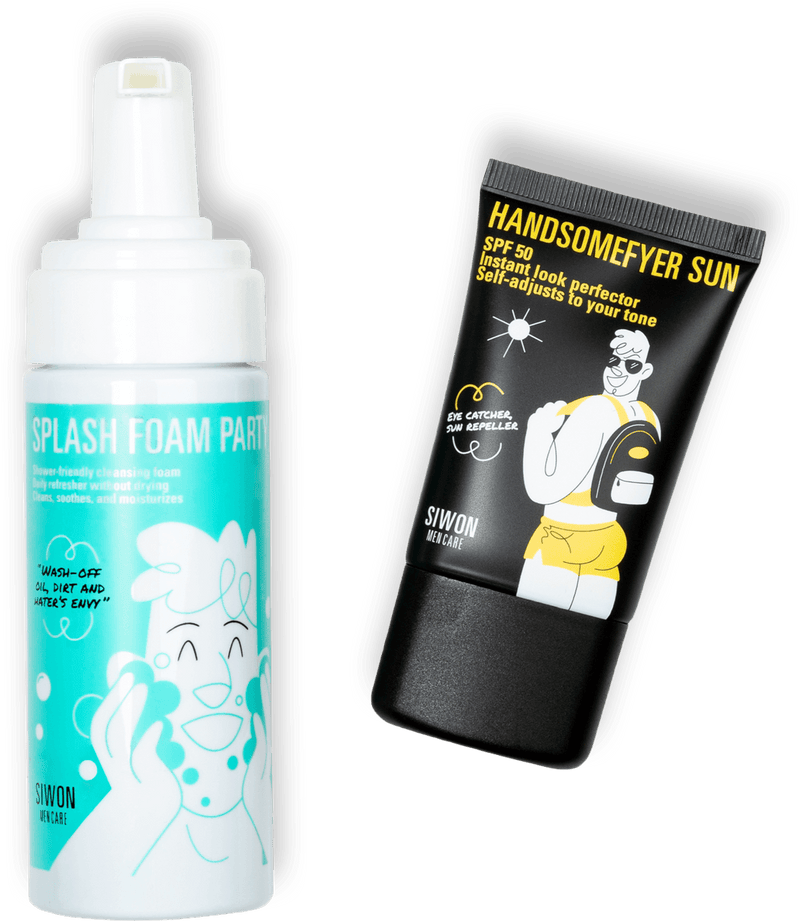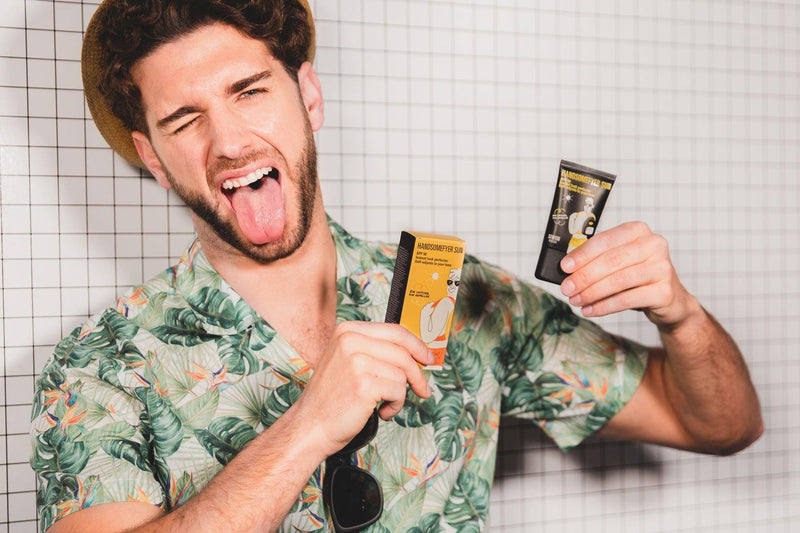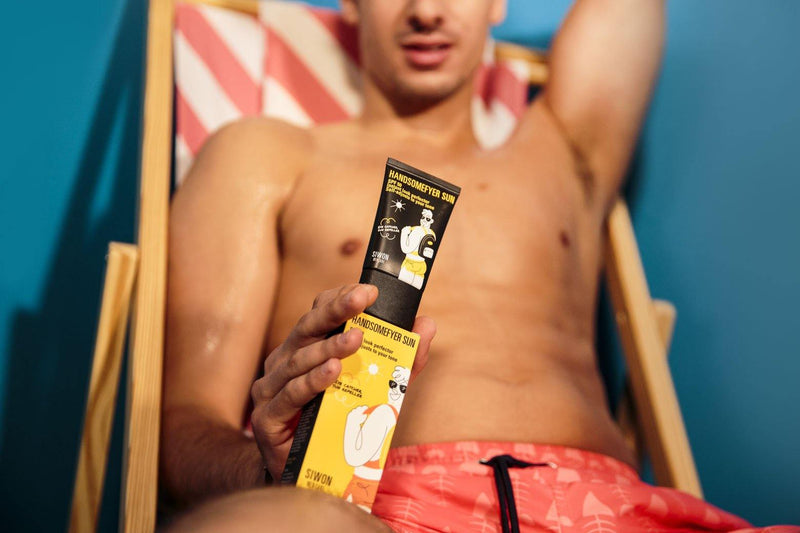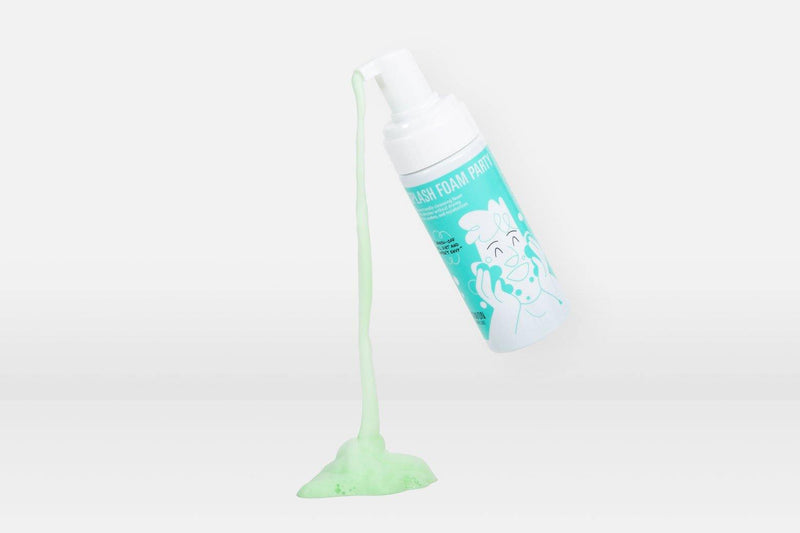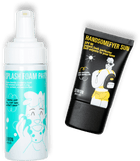 Your go-to to experience an eternal summer in your face:
- The foam cleanser smells like a fruit cocktail on the beach.
- The cream protects you from the sun while giving a 'living outdoor' tone to your face.
If you get burned easily by twitter comments or sunshine, this is your perfect combo.
What will you feel
The cleanser is a very light green foam. It has an instant fresh feel and a fruity-apple smell.
It leaves your skin soft, without drying and with its continued use, it unclogs your pores, keeping pimples and blackheads at bay.
The cream is whitish and, when you apply it, it changes color to suit your skin tone.
You will feel a boost of hydration without shine and your pores, wrinkles, spots and dark circles will be subtly blurred. You can tell but won't seem like you've had anything on.
How to use
The Splash Foam Party. With your face wet, apply 2 or 3 foam pumps on your hands, massage your face, leave it on for 10-20 seconds and rinse with plenty of water.
The Handsomefyer Sun. With the face already dry, apply a 'pea' size amoung of product and spread thoroughly with your fingers in circular motions over the face until it is uniform. Make sure to cover all areas such as the hairline and beard, the nose folds ... Hold on for ~ 15-20 minutes before exposing yourself to the sun.
And at the end of the day, the Splash Foam Party again to remove any remaining sunscreen.
Bamboo
Elasticity, firmness, hydration and antioxidant
Aloe vera
Regeneration, hydration, anti-inflammatory, antibacterial
Gotu kola
Antibacterial, anti-inflammatory, moisturizing, regenerative
Ginseng
Nutrition, improves circulation, antioxidant
Mediterranean fruit extracts
Hydration, softness, luminosity
Niacinamide 5%
Anti-aging, anti-wrinkle, stain remover, hydration, helps against pimples, rosacea and dermatitis
Vitamins C & E
Antioxidants and photo protection
Hyaluronic acid
Hydration cubed
White Agaric Mushroom Extract
Protection, minimizes appearance of pores
Frequently asked questions
How long does it last?+-
- Using it every day, between a month and a half and 2 months.
Are the ingredients natural?+-
- The Splash Foam Party and the Handsmefyer Sun do not contain parabens, sulfates or silicones. They are cruelty free and vegan.
- The Handsomefyer SUN has filters that respect fish and corals. - Both have been dermatologically tested on all skin types.
Is it makeup?+-
- No. It's an all-in-one: moisturizer, treatment, SPF50 and broad spectrum sunscreen and perfector.
- It does have pigments. It has nanoparticles that adapt to the color of your skin to match the tone and provide coverage.

What type of filters does it have?+-
- It has a combination of physical and chemical filters. All the filters that it has respect the coral reef and sea life, so do not worry about the Nemos.
Will I have a white cast?+-
- No. That is just what we have avoided with Handsomefyer SUN.
Can I go to the beach all day with this cream?+-
- No. Overexposure to the sun is a health hazard. You should not stay too long in the sun even if you use a product with sun protection. And you should replace it frequently, especially if you take a bath, sweat or use a towel.
- If you are thinking of a touristy weekend or a walk in the field, we got you covered.
Does it leave you feeling greasy on your skin?+-
- We have selected the lightest combination of sunscreens we've been able to design and still get SPF50.
- Still, it's more consistent than the Handsomefyer or Handsomefyer Xtra.
Free shipping is available if a minimum amount is spent.
Free shipping for all orders:
Spain (peninsula and Balearic Islands), Portugal (continental) with standard shipping service.
Free shipping for orders over €50:
Germany, Belgium, Slovakia, Slovenia, Spain (Canary Islands), France (mainland), Netherlands, Hungary, Lithuania, Luxembourg, Poland, Czech Republic, Austria, Denmark, Ireland, Italy (mainland) and Latvia.
Free shipping for orders over €100:
Estonia, Sweden, Croatia, Finland, Bulgaria, Italy (Sicily), Romania, Greece, France (Corsica) and Portugal (Azores and Madeira).

Deliveries in 2/3 working days:
Spain (peninsula and Balearic Islands), Portugal (continental) with express delivery service.
Deliveries in 3/5 business days:
Germany, Belgium, Slovakia, Slovenia, France, Holland, Luxembourg, Czech Republic, Austria, Denmark, Ireland, Italy, Finland, Romania.
Deliveries in 7/10 working days:
Bulgaria, Croatia, Estonia, Spain (Canary Islands), Greece, Hungary, Latvia, Lithuania, Poland, Portugal (archipelagos), Sweden.
Our couriers are DHL, UPS, CorreosExpress or Correos (depending on whether you choose standard or express shipping). Delivery times count from the moment your order leaves our warehouse. The order processing time is 24/48 working hours. Deadlines may change due to bank holidays or due to causes beyond Siwon's control. Under no circumstances do the indicated deadlines constitute a guarantee of delivery. Orders with free delivery to Spain and Portugal have a delivery period of 3 to 5 working days.
Spread the love
Quick and easy
Quick and easy to realize the order.
Sooner I received the parcel.
The productos are soft and eficient
Relación calidad-precio
Buena calidad. Buenos resultados. No son productos baratos pero tienen una buena relación calidad-precio.
un 10
Productos de primera calidad que funcionan y que la publicidad no es engañosa.
los productos son una maravilla
El envío fue estupendo. Tenéis muy buen rollo en general y los productos una maravilla, así los extras. Me he quedado con ganas de compraros más cositas y probar vuestros otros productos. Aún no he tenido oportunidad de usar el protector solar, pero el Giggleberries 10 de 10, súper agradable el olor y la textura.
Sin duda repetiré
Mandanguita de la buena, y que razón tienen, grandes productos y una atención al cliente que ya podrian tener todos. Sin duda repetiré.