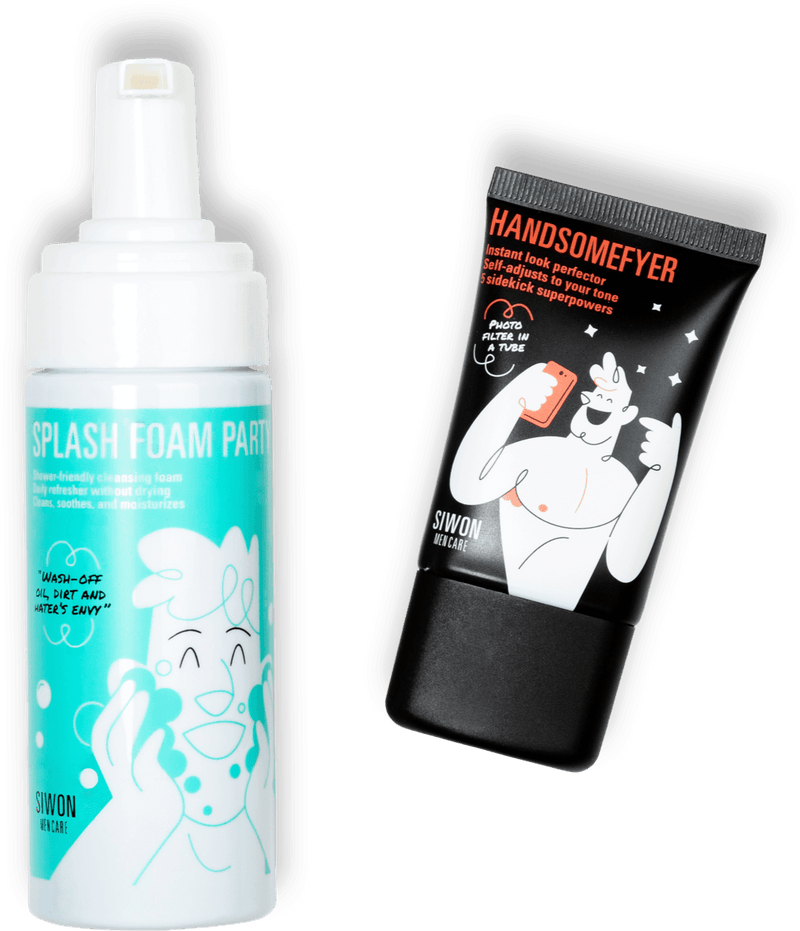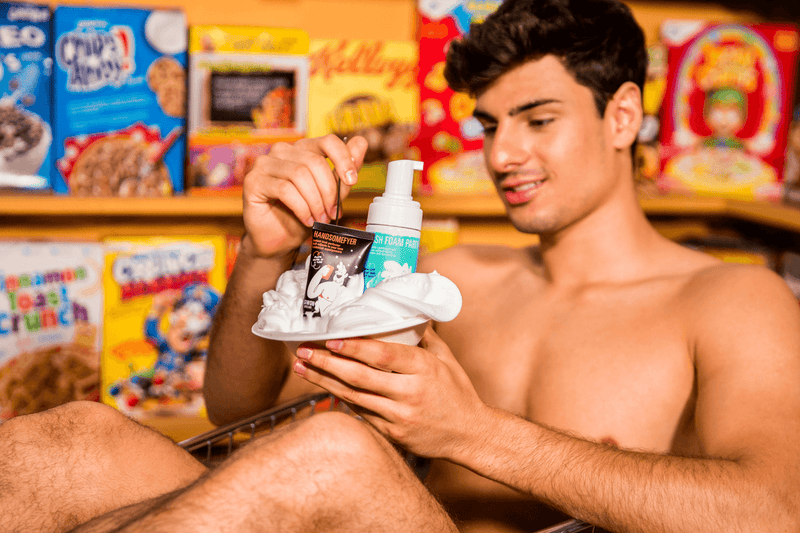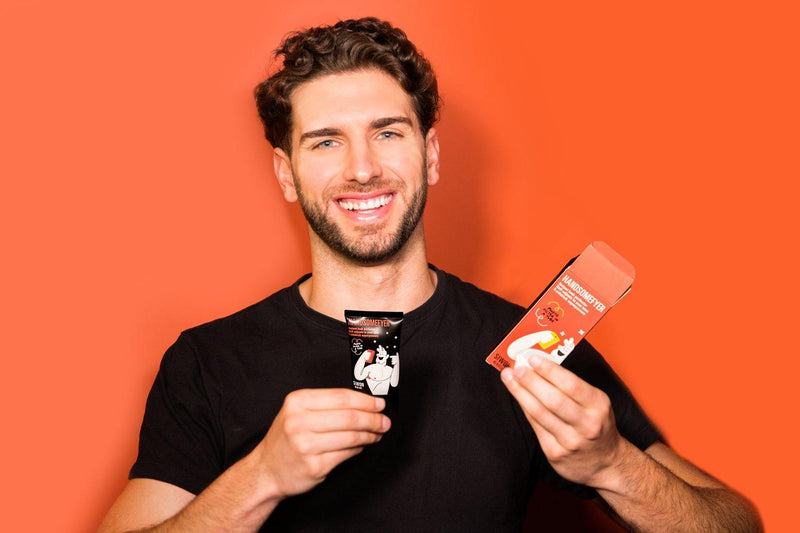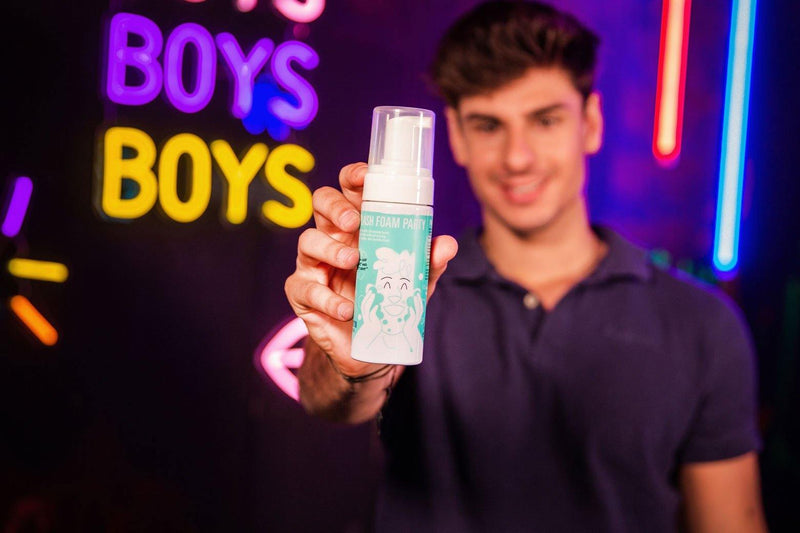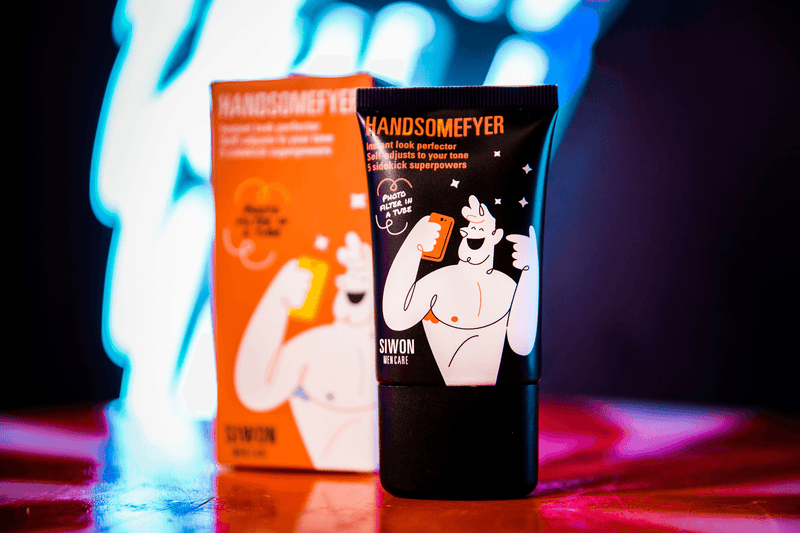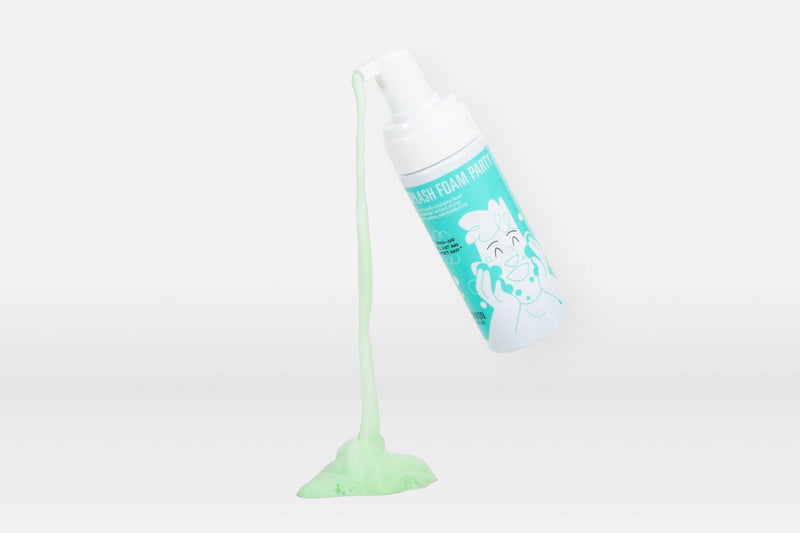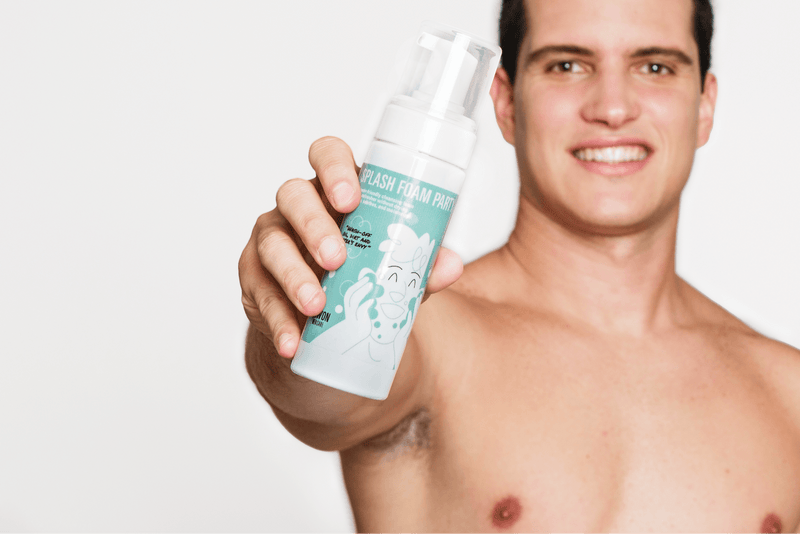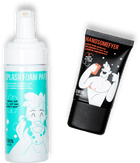 Starting the day with confidence and good karma:
- The cleanser first, flushes down the drain eye boogers, yawns and haters' envy from the night before.
- The cream then, makes you look wapo before winking at the mirror and taking the door out.
We can't prevent life from getting in your way, but we can ensure that it will catch you with a daring look.
What will you feel
The cleanser is a very light green foam. It has an instant fresh feel and a fruity-apple smell.
It leaves your skin soft, without drying and with its continued use, it unclogs your pores, keeping pimples and blackheads at bay.
The cream is whitish and, when you apply it, it changes color to suit your skin tone.
You will feel a boost of hydration without shine and your pores, wrinkles, spots and dark circles will be subtly blurred. You can tell but won't seem like you've had anything on.
How to use
The Splash Foam Party. With your face wet, apply 2 or 3 foam pumps on your hands, massage your face, leave it on for 10-20 seconds and rinse with plenty of water.
The Handsomefyer. With the face already dry, apply a 'pea' size amount of product and spread thoroughly with your fingers in circular motions over the face until it is uniform. Make sure to cover all areas such as the hairline and beard, nose folds ... Add more if you had a hard night or woke up feeling zombie.
At the end of the day, the Splash Foam Party again to eliminate any rest and bad vibes of the day.
Bamboo
Elasticity, firmness, hydration and antioxidant
Aloe vera
Regeneration, hydration, anti-inflammatory, antibacterial
Gotu kola
Antibacterial, anti-inflammatory, moisturizing, regenerative
Ginseng
Nutrition, improves circulation, antioxidant
Mediterranean fruit extracts
Hydration, softness, luminosity
Niacinamide 5%
Anti-aging, anti-wrinkle, stain remover, hydration, helps against pimples, rosacea and dermatitis
Vitamins C & E
Antioxidants and photo protection
Hyaluronic acid
Hydration to the max
White Agaric Mushroom Extract
Protection, minimizes appearance of pores
Frequently asked questions
How long does the pack last?+-
- Using it every day, between a month and a half and 2 months.
Are the ingredients natural?+-
- The Splash Foam Party and the Handsomefyer do not contain parabens, sulfates or silicones. They are cruelty free and vegan.
- Both have been dermatologically tested on all skin types.
What is the difference between the Handsomefyer and the Handsomefyer Xtra?+-
- The difference lies in the coverage.
- Handsomefyer refines in a subtle way.
- Handsomefyer Xtra has a more intense finish, camouflaging more dark circles, pimples, etc.
- When in doubt, our advice is to start with Handsomefyer and then upgrade to the Xtra if you want more intensity.
- In terms of vitamins and active ingredients, both are a the best!.
Is Handsomefyer makeup?+-
- No. It is an all-in-one: moisturizer, anti-wrinkle and blemish treatment, sunscreen and perfector.
- It does have color. Handsomefyer has nanoparticles that adapt to the color of your skin to match its tone and that provide coverage.
- If you wear makeup regularly, Handsomefyer is 'going to fall short'.
Free shipping is available if a minimum amount is spent.
Free shipping for all orders:
Spain (peninsula and Balearic Islands), Portugal (continental) with standard shipping service.
Free shipping for orders over €50:
Germany, Belgium, Slovakia, Slovenia, Spain (Canary Islands), France (mainland), Netherlands, Hungary, Lithuania, Luxembourg, Poland, Czech Republic, Austria, Denmark, Ireland, Italy (mainland) and Latvia.
Free shipping for orders over €100:
Estonia, Sweden, Croatia, Finland, Bulgaria, Italy (Sicily), Romania, Greece, France (Corsica) and Portugal (Azores and Madeira).

Deliveries in 2/3 working days:
Spain (peninsula and Balearic Islands), Portugal (continental) with express delivery service.
Deliveries in 3/5 business days:
Germany, Belgium, Slovakia, Slovenia, France, Holland, Luxembourg, Czech Republic, Austria, Denmark, Ireland, Italy, Finland, Romania.
Deliveries in 7/10 working days:
Bulgaria, Croatia, Estonia, Spain (Canary Islands), Greece, Hungary, Latvia, Lithuania, Poland, Portugal (archipelagos), Sweden.
Our couriers are DHL, UPS, CorreosExpress or Correos (depending on whether you choose standard or express shipping). Delivery times count from the moment your order leaves our warehouse. The order processing time is 24/48 working hours. Deadlines may change due to bank holidays or due to causes beyond Siwon's control. Under no circumstances do the indicated deadlines constitute a guarantee of delivery. Orders with free delivery to Spain and Portugal have a delivery period of 3 to 5 working days.
Spread the love
Buena cara todo el día
Limpiador fresquito el cual no te deja reseca la piel y la crema hidratante para nada pastosa ni oleosa. Todo el día con buena cara desde por la mañana
Great products and quality
Great products and quality, I will buy other ones soon
Late delivery but so far excellent
The products are rather long to arrive but are excellent. This is my third order. I only received once so far but quite excellent.
SuperSiwon!
Resultados ideales en poco tiempo. Cremita y empieza el día con mejor careto. Perfumado y perfecto.
Concepto novedoso
El concepto de la marca es novedoso y muy canalla, cómo les gusta decir. Yo he probado Hsndsomefyer y la espuma limpiadora y están genial. Ya he pedido la crema devojos a los Reyes. Eso sí, hay que tener presupuesto como para usarlas todo el tiempo. Enhorabuena.