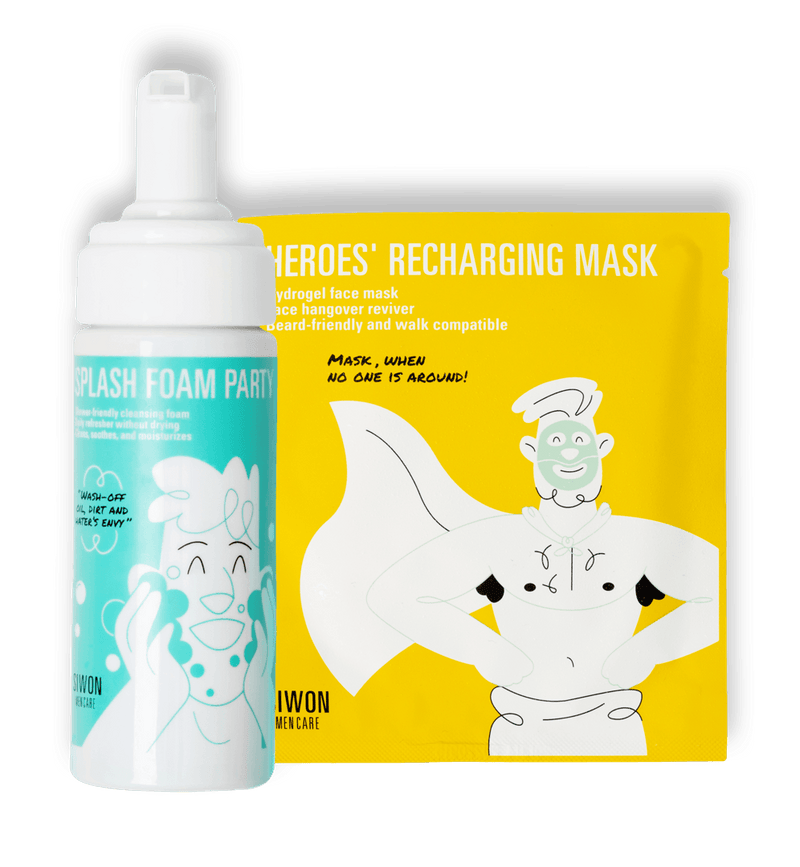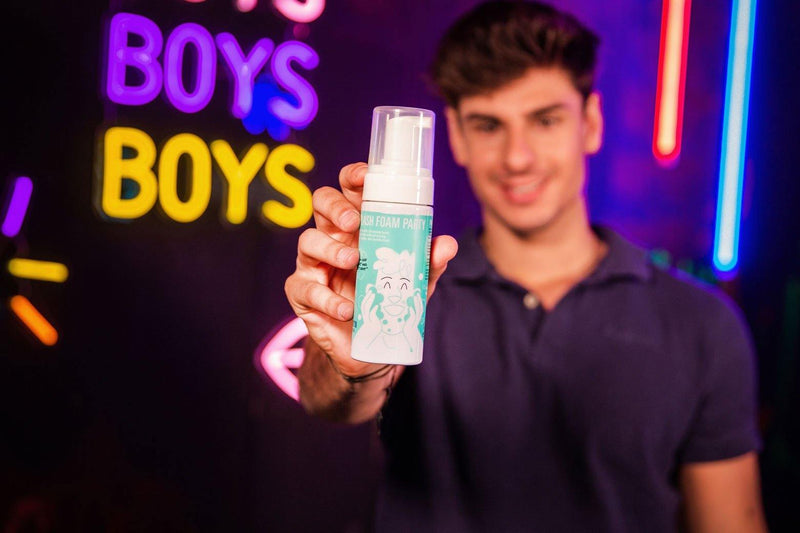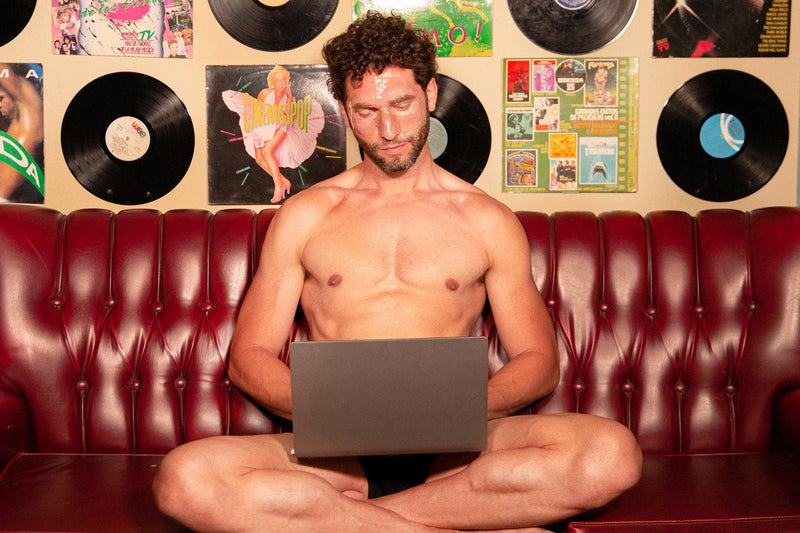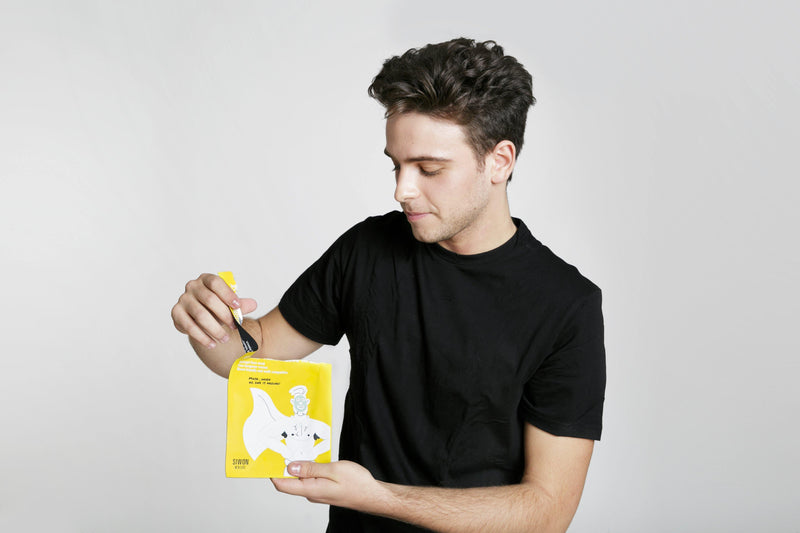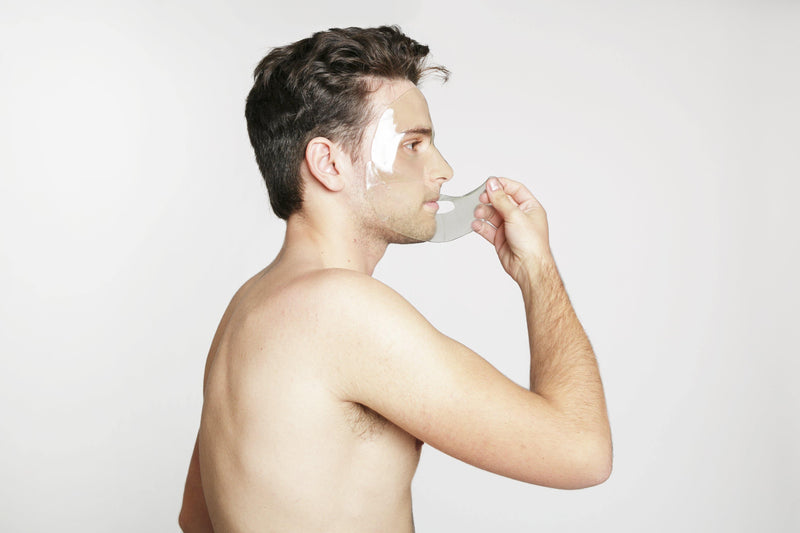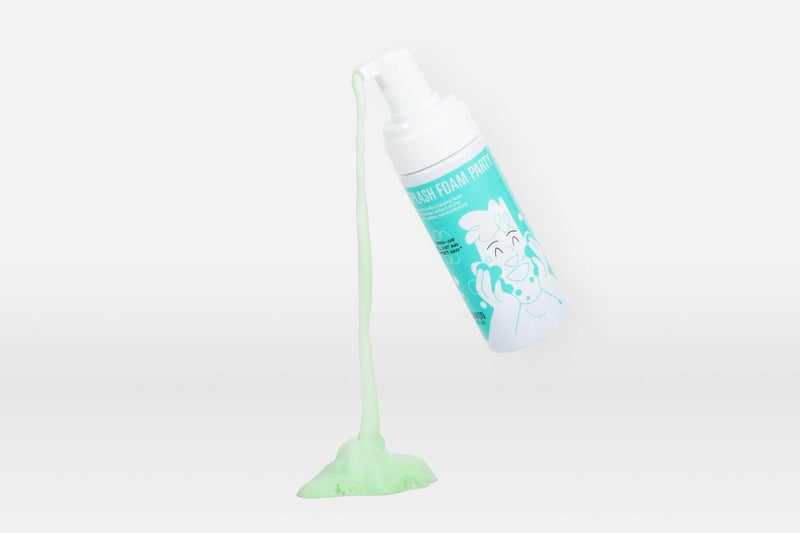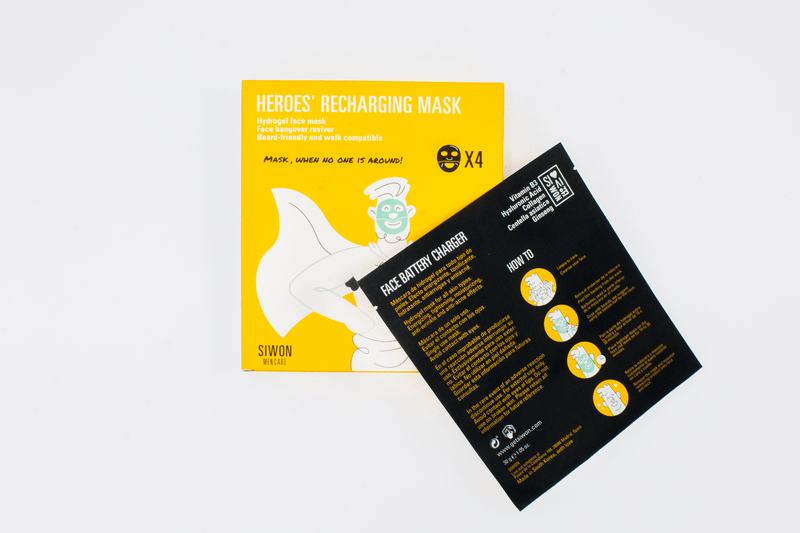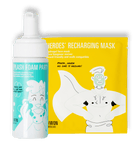 The Thai spa you deserve if you have 20 'alone:
- Foam first, with ans apple and good vibes effect.
- Mask afterwards, that takes care of you while you lie horizontally with the TV on.
… Jeff Bezos's live with an scholar budget.
What will you feel
The cleanser is a very light green foam. It has an instant fresh feel and a fruity-apple smell.
It leaves your skin soft, without drying and with its continued use, it unclogs your pores, keeping pimples and blackheads at bay.
The hydrogel masks feels like a freshness kick all over the face and a very slight tingling while the active ingredients penetrate your skin.
When you remove it, your face will be illuminated as an after-fuck glow and your expression lines will have blurred.
How to use
The Splash Foam Party. With a wet face, apply 2 or 3 pumps on your hands, massage your face, leave it on for 10-20 seconds and rinse with plenty of water.
Heroes' Recharging Mask. With your face dry (and better if you are in front of a mirror), remove the protector and place the upper and lower part of the mask on your face with the help of your fingertips.
Leave on for 15 to 20 minutes.
Remove the mask and gently massage the remaining serum onto your face and neck.
If you have a beard, you can use the lower part of the neck mask.
Bamboo
Elasticity, firmness, hydration and antioxidant
Aloe vera
Regeneration, hydration, anti-inflammatory, antibacterial
Centella Asiatica
Antibacterial, anti-inflammatory, moisturizing, regenerative
Ginseng
Nutrition, improves circulation, antioxidant
Mediterranean fruit extracts
Hydration, softness, luminosity
Niacinamide 5%
Anti-aging, anti-wrinkle, stain remover, hydration, helps against pimples, rosacea and dermatitis
Hyaluronic acid
Hydration cubed
Collagen
Hydration
Green tea
Antioxidant, antimicrobial, anti-inflammatory
Red algae
Moisturizer, protective barrier, hydration
Frequently asked questions
How long does the pack last?+-
- The Splash Foam Party, using it every day in the morning and at night, lasts between a month and a half and 2 months.
- Using one mask a week, the box is designed to last 1 month. 4 masks per box.
Are the ingredients natural?+-
- The Splash Foam Party does not contain parabens, sulfates, silicones, it is cruelty free and vegan.
- The Heroes Recharging Mask does not contain parabens, sulfates, or silicones and is cruelty free. Contains collagen of animal (fish) origin.
- Both have been dermatologically tested on all skin types.
Do masks work if you have a beard?+-
- Yes because it comes in two halves. If you have a beard, put the top on your face and use the bottom on your neck.
Free shipping is available if a minimum amount is spent.
Free shipping for all orders:
Spain (peninsula and Balearic Islands), Portugal (continental) with standard shipping service.
Free shipping for orders over €50:
Germany, Belgium, Slovakia, Slovenia, Spain (Canary Islands), France (mainland), Netherlands, Hungary, Lithuania, Luxembourg, Poland, Czech Republic, Austria, Denmark, Ireland, Italy (mainland) and Latvia.
Free shipping for orders over €100:
Estonia, Sweden, Croatia, Finland, Bulgaria, Italy (Sicily), Romania, Greece, France (Corsica) and Portugal (Azores and Madeira).

Deliveries in 2/3 working days:
Spain (peninsula and Balearic Islands), Portugal (continental) with express delivery service.
Deliveries in 3/5 business days:
Germany, Belgium, Slovakia, Slovenia, France, Holland, Luxembourg, Czech Republic, Austria, Denmark, Ireland, Italy, Finland, Romania.
Deliveries in 7/10 working days:
Bulgaria, Croatia, Estonia, Spain (Canary Islands), Greece, Hungary, Latvia, Lithuania, Poland, Portugal (archipelagos), Sweden.
Our couriers are DHL, UPS, CorreosExpress or Correos (depending on whether you choose standard or express shipping). Delivery times count from the moment your order leaves our warehouse. The order processing time is 24/48 working hours. Deadlines may change due to bank holidays or due to causes beyond Siwon's control. Under no circumstances do the indicated deadlines constitute a guarantee of delivery. Orders with free delivery to Spain and Portugal have a delivery period of 3 to 5 working days.
Spread the love
Una marca de 10
La primera impresión de la marca ya fue buena por las ilustraciones, pero poco a poco me picó el gusanillo de probar algunos productos por el buen rollo que os traíais en general. Vuestras publicaciones siempre me sacan una sonrisa y estoy más que encantado con todo lo que os he comprado. Todas las noches uso el Foam Party ¡Me deja la carita estupenda! Siempre he tenido problemas por mi piel con dermatitis, y también suelo tenerla grasa, pero se me seca e irrita con facilidad... Con vuestros productos en cambio siento que me queda la piel limpia durante horas y sin irritaciones. Además, todo huele de maravilla.
Relación calidad-precio
Buena calidad. Buenos resultados. No son productos baratos pero tienen una buena relación calidad-precio.
un 10
Productos de primera calidad que funcionan y que la publicidad no es engañosa.
los productos son una maravilla
El envío fue estupendo. Tenéis muy buen rollo en general y los productos una maravilla, así los extras. Me he quedado con ganas de compraros más cositas y probar vuestros otros productos. Aún no he tenido oportunidad de usar el protector solar, pero el Giggleberries 10 de 10, súper agradable el olor y la textura.
Sin duda repetiré
Mandanguita de la buena, y que razón tienen, grandes productos y una atención al cliente que ya podrian tener todos. Sin duda repetiré.