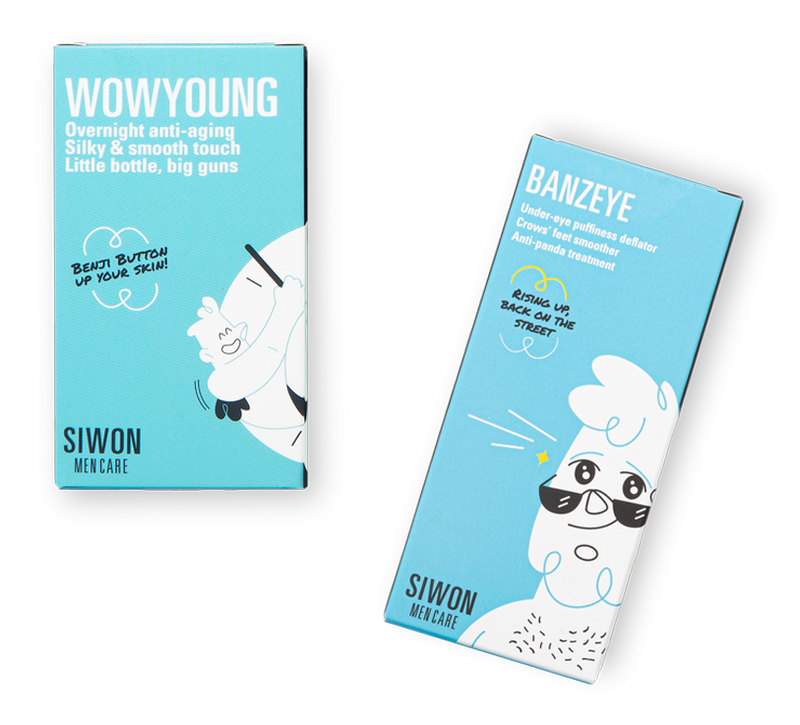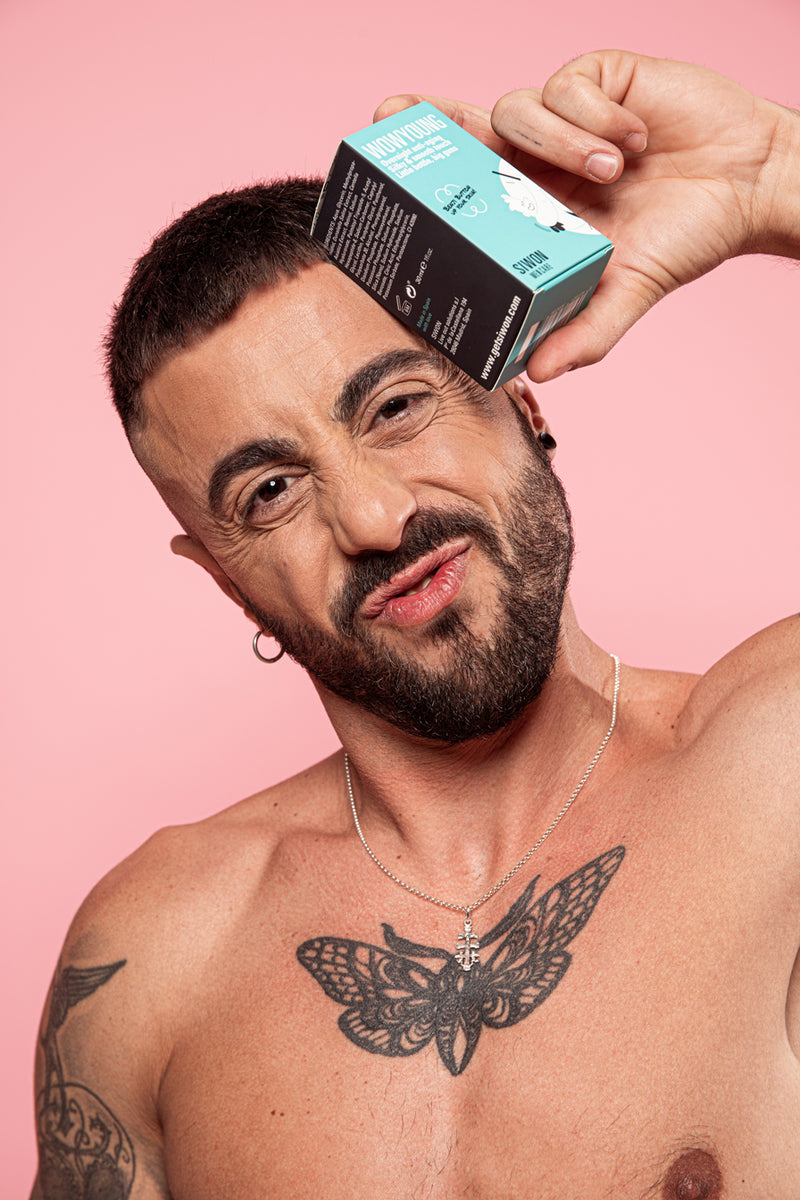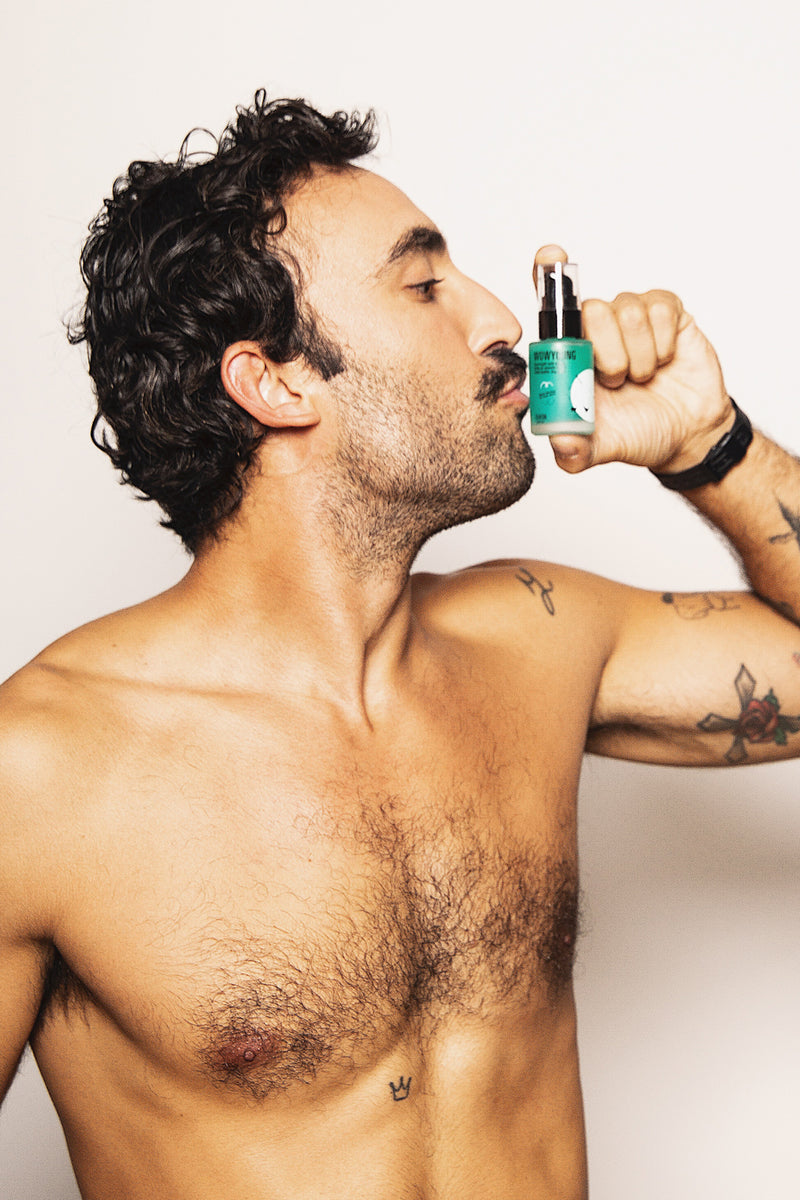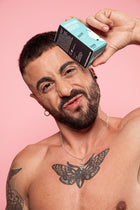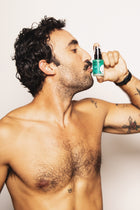 And then he asked: 'hey fella, what are you drinking?'... Well, whatever it takes to keep on looking 2/3 my age, freezing my birthday date in every social media profile without anyone wondering and collecting gazes from those that were learning the colors while I was going through History101.
What will you feel
The serum, Woyoung , is a green-ish gel-like cream with a super fresh feel. With an instant absortion, you will not notice you have something on your face when you go to bed. After 8-10 weeks using it daily, you will see how your wrinkles and expression lines on your face start to disappear.
The under-eye cream, Banzeye, is a white cream with a super light texture. After 4-weeks dark circles, bags and crow's feet will be visibly minimized.
How to use
Banzeye: In the morning, in front of the mirror and with a clean face, put a 'lentil' of product on your finger. Then spread with the fingertips around the under-eye area, patting carefully
Wowyoung: Before going to bed and with your face washed and dried, apply 2-3 pumps of product. Spread with your fingers in circular motions across the face.
Retino 0.3%
Anti-aging superstar
Niacinamide
anti-aging, anti-wrinkle, stain remover
Hyaluronic Acid
hydration to the max
Peptides
Antioxidants and collagen production
Caffeine
Antioxidant, activates circulation
Ginkgo
anti-dark circles, anti-aging
Ginseng
antioxidant, activates circulation
Frequently asked questions
I have sensitive skin, can I use it?+-
Wowyoung is designed for people who start with retinol and has passed with A+ all skin tests Having said that and to prevent any reaction (every skin is different), start using it every other day until your skin gets used to it. During this period, it is advisable to incorporate ultra-hydrating products (Heroes' Recharging Mask 😜 or DragonShot) to your routine.
Are the ingredients natural?+-
Wowyoung and Banzeye do not contain parabens, sulfates or silicones. They are cruelty free and vegan. Both have been dermatologically tested (Banzeye ophtalmologically too) on all skin types.
Why can I only apply Wowyoung at night?+-
Retinol is a component that does not get along well with the sun. If you decide to apply it during the day, better to pair it with sun protection (eg. with our Handsomefyer Sun 😜)
Does it leave you feeling greasy on your skin?+-
At all. They are designed to leave you matte as a peach's butt throughout the day. Shine-free 24h
How long does it last?+-
Using it every day, between a month and a half and 2 months.
Free shipping is available if a minimum amount is spent.
Free shipping for all orders:
Spain (peninsula and Balearic Islands), Portugal (continental) with standard shipping service.
Free shipping for orders over €50:
Germany, Belgium, Slovakia, Slovenia, Spain (Canary Islands), France (mainland), Netherlands, Hungary, Lithuania, Luxembourg, Poland, Czech Republic, Austria, Denmark, Ireland, Italy (mainland) and Latvia.
Free shipping for orders over €100:
Estonia, Sweden, Croatia, Finland, Bulgaria, Italy (Sicily), Romania, Greece, France (Corsica) and Portugal (Azores and Madeira).

Deliveries in 2/3 working days:
Spain (peninsula and Balearic Islands), Portugal (continental) with express delivery service.
Deliveries in 3/5 business days:
Germany, Belgium, Slovakia, Slovenia, France, Holland, Luxembourg, Czech Republic, Austria, Denmark, Ireland, Italy, Finland, Romania.
Deliveries in 7/10 working days:
Bulgaria, Croatia, Estonia, Spain (Canary Islands), Greece, Hungary, Latvia, Lithuania, Poland, Portugal (archipelagos), Sweden.
Our couriers are DHL, UPS, CorreosExpress or Correos (depending on whether you choose standard or express shipping). Delivery times count from the moment your order leaves our warehouse. The order processing time is 24/48 working hours. Deadlines may change due to bank holidays or due to causes beyond Siwon's control. Under no circumstances do the indicated deadlines constitute a guarantee of delivery. Orders with free delivery to Spain and Portugal have a delivery period of 3 to 5 working days.
Spread the love
Adios ojeras :O
Compré el ageless pack que ya me veo el 40 cerca y la verdad que llevo ahora 2 semanas usándolo y no sé si me lo estoy imaginando pero creo notar bastante diferencia. El banzeye es espectacular, te renueva por las mañanas. Wowyoung creo que me he pasado los primeros días poniéndome demasiadas veces y me ha resecado un poco, así que por el día me toca echar hidratante.
El handsomefyer es lo único que no me convence del todo, siento que no es más que una bbcream con color pero no tengo sensación que hidrate mucho.
Pero sin duda, volveré a repetir el agless pack :)
Encantado
Llevo una semana usando wow Young y realmente es distinto a todo lo que había probado hasta ahora. Deja una sensación agradable y se absorbe en segundos. La verdad es que me ha encantado. No me voy a dormir sin aplicarmela antes. 👍 Enhorabuena canallas!!! 😜